£2.5 billion but can you have your cake and eat it?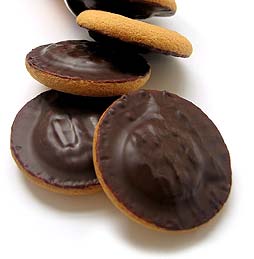 On Monday it was reported that China's Bright Food Group was investigating the potential purchase of Britain's United Biscuits for up to £2.5 billion.
Whilst on the face of it one food company buying another food company isn't that exciting it does raise some interesting points.
Importantly, it also makes you think of whether Jaffa Cakes are in fact biscuits rather than cakes…
First of all though in classic Michael Porter's Competitive Advantage of Nations terms then particular countries are considered to be strong in certain industries.
Germany for example is renowned for the production of high powered cars such as Audi, BMW and Porsche. Japan is a world leader in high tech cameras such as Canon, Nikon and Pentax.
Britain on the other hand is a powerhouse in the production of biscuits. After all, who needs luxury cars and high tech cameras when you can have a lovely cup of tea with a nice biscuit or two?
Secondly, the fact that another company from a so called emerging market is now potentially making a significant acquisition of a company in a more developed market sends an interesting signal about the current trend of globalisation.
Both these points are all very well and good but what's this all about a biscuit or cake discussion?
United Biscuits produce some household name products including McVitie's biscuits, Hula Hoops and Twiglets. They also produce Jaffa Cakes.
Jaffa Cakes were the subject of an infamous tax case a few years ago. To cut a long story short the debate was whether a Jaffa Cake was a cake (considered to be a basic foodstuff and hence not liable to VAT) or a chocolate covered biscuit (considered to be a luxury food product and hence liable for lots of VAT).
So, how on earth can you decide whether a food product is a cake or a biscuit?
The deciding factor was that when a cake is left to go stale it gets hard whereas when a biscuit is left to go stale it goes soft.
The argument went to a VAT tribunal (which is in effect a type of Court) and as part of the evidence put forward a 30cm Jaffa Cake was baked and left to go stale (and hard) so as to convince the tribunal that it was in fact a cake.
The final result was that Jaffa Cakes are indeed cakes so you can now have your cake and eat it (VAT free).