A bank run? Don't worry, it's only a bit of fun…
It hardly seems possible that the bank run on the UK bank Northern Rock happened over 3 years ago but last week some people thought that there was a similar run on the Spanish bank BBVA.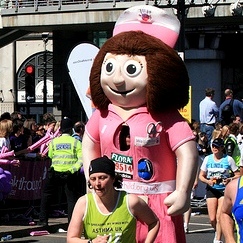 A bank run occurs when a large number of people with deposits at a particular bank head to branches of the bank to get their money out as quick as possible.
It often follows a rumour about problems with the bank and can lead to a self fulfilling prophecy.
Large numbers of people withdraw money. This can cause liquidity problems at the bank which in turn causes more concern which leads to more people rushing to withdraw their money which leads to liquidity problems with leads to….. and so on until a vicious circle develops.
A bank makes its money from lending.
If it just keeps depositors money without using the deposits to generate revenue by for example lending to borrowers then the bank is in effect just a safe deposit box for the deposits.
In the great depression of the 1930s sudden withdrawals by panicky depositors caused liquidity problems to such an extent that a number of healthy banks were forced to close.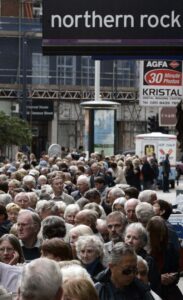 Nowadays, as long as the bank is solvent, any short term liquidity problems should be resolved by borrowing cash from its central bank as a "lender of last resort".
Bank runs can still happen though and last week the queues of people outside of BBVA bank in Madrid caused rumours that resulted in the share price falling sharply.
It took a while for the markets to identify what was going on and it wasn't so much a bank run that was causing the queues but rather a "fun run"
There was a 10km fun run sponsored by BBVA and joggers were queuing up to get their race numbers and t-shirts from the bank for the run on the Sunday.
Unfortunately rumours quickly spread around the financial markets that there were large queues outside the bank and in the jittery post financial crisis atmosphere the share price plummeted by nearly 4%.
Luckily a hour or so later the markets realised that the bank withdrawals were race t-shirts rather than cash and the share price recovered.
Finally, to test your knowledge of the financial markets there are two pictures in this blog entry. One shows a bank run whilst the other shows a fun run. Can you tell the difference…