Advertising on the move and all for a good cause.
There are certain things in this world that really should be readily available no matter where you live.
School education for children for example is one such item.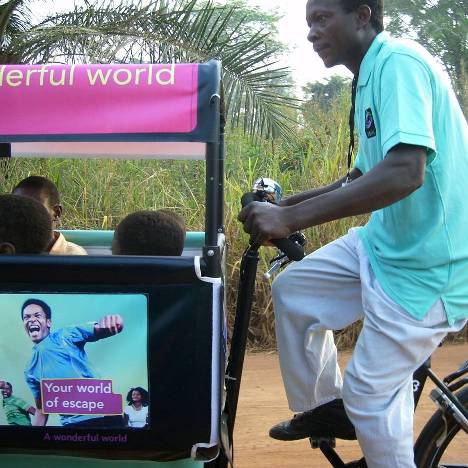 In some countries however it is a sad fact of life that children often have to walk many kilometres to their nearest school. This can understandably result in there being challenges in ensuring attendance at classes.
The advertising industry can be a very creative place and in Africa the advertising industry is currently growing at an estimated 20% per annum.
French company Instinct's Socially Intelligent Marketing programme aims to combine this growing advertising market in Ghana with providing a solution to the school transport problem.
Instinct has launched "TriKademiK".
In effect this is a mobile advertising platform that combines a billboard with a tricycle that can carry up to 6 children to school. When not in use on the school-run the tricycle can be converted to transport other goods for the local community.
The initial pilot versions of TriKademiK were sponsored by mobile phone company Zain Ghana and drinks company Voltic (part of the SAB Miller group of companies).
Instinct's aim is to roll out the programme to over 1,000 tricycles which can transport 7,000 children to school on a daily basis.
All in all an impressive and creative use of an advertising platform for a very good cause.