Is this innovative or scary?
I'm not sure about this. Is it innovative or rather scary?
Over in Germany the media company Sky Deutschland has been working with the advertising agency BBDO Germany and they have developed adverts which people will hear "from inside their heads".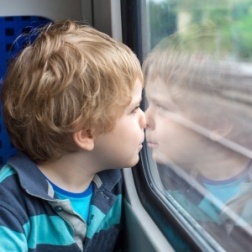 Hearing voices inside your head promoting products probably opens up a big ethical debate but the technology that has been developed enables adverts to be transferred from train windows directly and (rather ominously) silently into train passengers heads.
The idea is that when a person starts falling asleep or resting their head against the window they will hear an advert urging them to download the Sky Go app. The surprising thing is that they will hear it but nobody else in the carriage will hear it (unless of course they are falling asleep against the window as well).
The science behind this involves technology in effect turning the windows into speakers and when a person leans against the window the vibrations in the window travel up the bones on their face into your inner ear and the sound is heard. Similar bone conduction technology is used in hearing aids and Google's glass headset.
The video below shows more details but I wonder whether this will appear in other places in the future. Is it just a matter of time before you casually lean against the window in the office to hear an advert from your employer telling you how lucky you are to be working there and to stop looking out of the window and to get back to work.