Congratulations to William and Kate but I bet Prince George won't…
Congratulations to William and Kate on the birth of their son, George. Or to give the young Prince his full title, His Royal Highness Prince George of Cambridge.
All of us at ExP wish him a long and healthy life but I wonder whether he'll ever use something which most of us use on a regular basis.
You've all used a computer and the "qwerty" style keyboards which are named after the first row of the letters of the top row of the keyboard are things that we currently take for granted.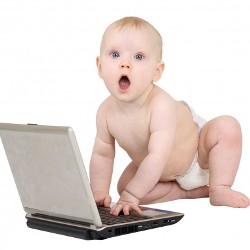 The interesting thing though is that 20 years ago keyboards weren't very common and my feeling is that in 20 years time they also won't be very common.
This means that we are living in a small window of time where humans use keyboards. Our grandparents never used them and I'm sure that our grandchildren won't be using them in the future.
Our grandchildren will no doubt ask why we were hunched over a strange machine with our hands like claws!
Switching to business terminology and you can argue that keyboards are at the maturity stage and fast approaching the decline stage of the product life cycle.
The reason I'm convinced the keyboards will soon be on their way out is that we're currently trialing some voice recognition software in the office and it's very impressive.
A few years ago I tried an early version of similar software but it wasn't very good. The version we are trialing at the moment however is completely different and in fact I'm dictating this article with this software. It's very hood good indeed.
So that's my prediction. Keyboards are at the maturity/decline stage of the life-cycle and we will be the lucky few in the history of mankind that had the pleasure of using the keyboard.
Anyway, back to Prince George though and he's got far more exciting things to think about in the next few years than worrying about the lifecycle of keyboards. There's the small matter of learning to walk and talk first.