Would you be able to remember all these meals?
A lot of the readers of this blog are either studying finance or working in a finance job. A lot of you no doubt enjoy eating at a restaurant now and then and can remember some favourite places you've eaten in the past.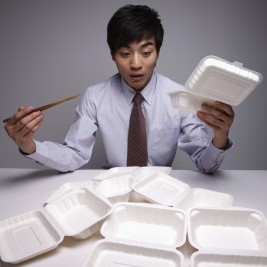 I'm sure though that there aren't many of you that have combined the classic spreadsheet skills of a finance person with the memories of the food you've eaten as well as Mr David Chan from the US has.
ABC News recently reported on Mr Chan, a 64 year old accountant based in the US who enjoys eating at restaurants or to put it more precisely, enjoys eating in Chinese restaurants.
"Enjoys eating in Chinese restaurants" is a bit of an understatement as over the last 33 years he has eaten at a pretty impressive number of Chinese restaurants.
In fact, he's eaten at nearly 6,300 different Chinese restaurants! That certainly is a pretty impressive number of restaurants as visits to 6,300 different restaurants in 33 years works out at an average of nearly 4 new restaurants every week!
"But how does he know how many restaurants he's eaten at" I hear you say?
Well this is where his accountancy training and his expertise in the use of spreadsheets comes in.
He's actually got records of all the restaurants he's eaten in since the 1980's and keeps a spreadsheet with their details organised by name, street and year visited.
When his wife was asked what she thought of it she was quoted as saying she thought the whole idea was "silly".
I must admit that I'm not sure that a lot of people will be rushing to look at that particular spreadsheet and it's difficult to argue with his wife's view.