Did you see what Andy Murray was wearing?
On Sunday Andy Murray became the first British man to win Wimbledon for 77 years. He beat Serbia's Novak Djokovic in an enthralling match but did you notice what he was wearing?
Now, I'm not talking about his shoes, shorts or top but rather something less associated with the sport of tennis.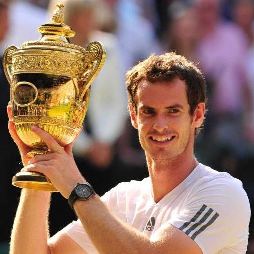 Sponsorship is big business for the top sports stars and some commentators are speculating that Murray will be able to earn up to £100m in sponsorship deals and appearance fees as a result of him winning the Wimbledon Championships.
As well as being a good opportunity for top sports stars to add some nice figures to their bank balances it's also a good opportunity for the sponsors to be associated with such winning stars (and of course with the hope that people will buy more of their products!)
He already has a number of sponsors including Adidas who supply his kit, Head who supply his tennis racquet and RBS (The Royal Bank of Scotland) who provide somewhere safe for him to keep his money.
Back to what he was wearing though and did you notice the watch that he wasn't wearing during the match but was wearing when he was presented with the trophy?
Another of his sponsors is the Swiss Watch Manufacturer Rado and after Murray won the match he quickly put his £3,000 Rado Hyperchrome XXL onto his wrist before the presentation.
The end result was no doubt a very happy Rado company whose watch was on the front pages of all the newspapers.
Some great publicity for the company.
Will we see this trend for tennis players putting designer watches on before they are presented with a trophy expand to other sports?
Will we see the captain of the winning team at next year's football World Cup in Brazil wearing a watch when he lifts the trophy??