Do you ever feel tired at work? If so, then maybe you should…
…wear a tie.
Japan is famous for the long hours that some of their office workers undertake but there is now an invention that will maybe ease things a little bit for hardworking office staff.
A new tie called "Nemuri Tie" is now on sale in Japan.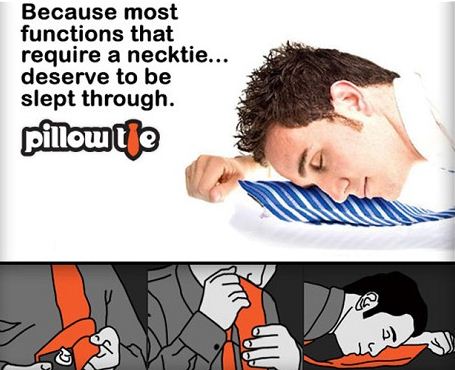 Nemuri Tie means pillow tie in Japanese and if the advertising is anything to go by it will enable hard pressed office workers to grab a quick sleep at their desk.
It's a relatively simple design in that it's a normal looking tie but it's got an inflatable pillow in it which can be blown up to provide a handy place to rest your head when you fancy a nap.
It can be inflated when the user is wearing it so there's no need to keep on taking your tie off and putting it back on every time you fancy a sleep.
The Sleep Tie is currently on sale for just under £20.
It's not clear whether the tie is stain proof for anyone that dribbles in their sleep.