Ernst & Young is no more.
For years I've referred to the company as Ernst & Young and I've known some great people who have worked for Ernst & Young but at the start of this month "Ernst & Young" ceased to exist.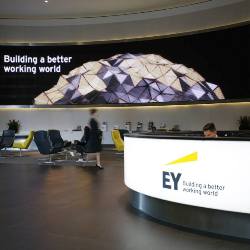 Now before any of you that work for Ernst & Young start panicking there's no need to be worried as it's part of their recently announced rebranding exercise and from now on they will be known as EY.
Their name is not the only thing that has changed. They also have a new Global Chairman and CEO in 51 year old Mark Weinberger who was quoted as saying "It is a privilege to lead this great organisation in these dynamic times."
Not content with getting a new name and a new boss they have also introduced a new logo and a new "purpose". Their new purpose will also be their tagline and is:
"Building a better working world".
Mr Weinberger went on to say that "Every day, every EY person is part of building a better working world – for our clients, our communities, and our families. We believe that everything we do – every audit, every tax return, every advisory opportunity, every interaction with a client or colleague – contributes to building a better working world."
That's a pretty ambitious target and good luck to Ernst & Young EY with implementing their new plans.
So, EY have gone down the same road as pwc and KPMG by abbreviating their name to their initials. Does this mean that Deloitte will soon announce a rebranding to "D"?