100,000 thanks plus your chance to win a free ACCA or CIMA course.
Wow – it only seems like yesterday that we started our blog and Facebook page and yet here we are this week celebrating 100,000 fans on Facebook so a big, big thank you to all of you that read the blog and follow us on facebook.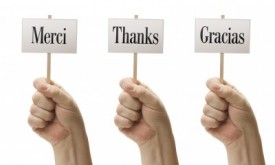 Our blog readers really do come from all around the world. Our latest readership report showed that our blog has been read in 180 countries in the last 30 days!
So, thank you, dankie, shukran, do jeh, grazie, gracias, asante, merci (in fact sorry but we can't do 180 languages but thank you all anyway!)
We've also got a little something to give back to you. We've got a short 2 minute survey and 5 people who complete it will be selected at random to win a free online ACCA or CIMA course.
If you've passed all of your exams or aren't studying for them then don't worry as if you are lucky enough to win the free ACCA or CIMA online course prize draw you can transfer the course to the person of your choice.
Thank you again for all the nice messages you've sent us over the years and here's to the next 100,000 Facebook fans.