Free drinks at work but not too much otherwise you'll get locked out…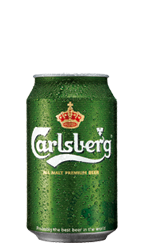 Denmark is famous for many things. One of them is that it is home to one of the most recognized beer brands in the world, Carlsberg.
Carlsberg beer was first brewed in the mid 1800s and today is drunk around the world in 140 countries.
They have been in the news recently when nearly 800 workers in Denmark went on strike as a result of proposed changes to Carlsberg's rules for drinking beer at work.
Currently, there is free beer (and soft drinks) in the canteen at lunchtime but the drivers of the delivery vehicles are eligible to have up to three free beers per day outside of lunch hours. The argument for this is that as they are on the road a lot they do not have the opportunity to have free beers in the canteen.
The warehouse staff went on a five day strike arguing that they should also be entitled to the additional free beers that the drivers get. Earlier this week the strike came to an end with an agreement to discuss matters.
Having an awareness of current worker relations issues is important in a number of exam papers but walking out on strike as a result of not having free beer is probably a relatively unusual issue! The vast majority of organizations have a no drinking policy in place.
There is also a big health and safety issue present. Having drivers that drink beer when they are on the road has some obvious dangers.
Carlsberg though have already thought about this and have identified a novel solution. All of their delivery trucks are fitted with alcohol sensing ignition locks that will not start if the driver is drunk.