If you're a single lady, should you get a red car?
Despite car companies spending millions on R&D and new product launches one of the first questions people tend to ask if you say you've bought a new car is "what colour is it?"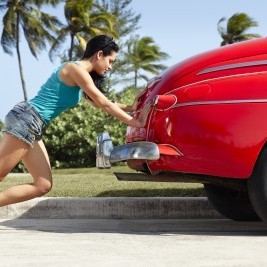 Up until recently the most likely answer to that question would have been "silver".
However, after 10 years at the top of the popularity car colour charts silver has fallen to the number 2 position.
The most popular car colour according to leading transportation coatings company, PPG Industries, is now white.
According to their figures 21% of this year's new cars across the globe have been finished in white.
There are however some regional differences. Namely:
Asia/Pacific – silver 25%, white 23% and black 17%
Europe – black 26%, white 19% and silver 16%
North America – white 20%, silver 19% and black 18%
According to a PPG survey, more than 75% of car buyers said exterior colour was a factor in their purchase decision but as the above figures show though there doesn't appear to be a huge variety in colours with the 3 main colours of white, black and silver dominating.
But what about the colour red though? After all, our ExP logo has a big red dot in the middle so we like the colour red.
Well, an interesting study in the European Journal of Social Psychology has identified that if a lady wants to make herself more attractive to men then she should consider wearing more red colours.
The study concludes that
"In two experiments, we investigate an analogous effect in humans, specifically, whether red on a woman's shirt increases attraction behavior in men. In Experiment 1, men who viewed an ostensible conversation partner in a red versus a green shirt chose to ask her more intimate questions. In Experiment 2, men who viewed an ostensible interaction partner in a red versus a blue shirt chose to sit closer to her.
No doubt the marketeers are already onto this so does this mean that we'll now see car companies starting to promote red cars for single ladies?