Is it a good thing to be smelling of beer?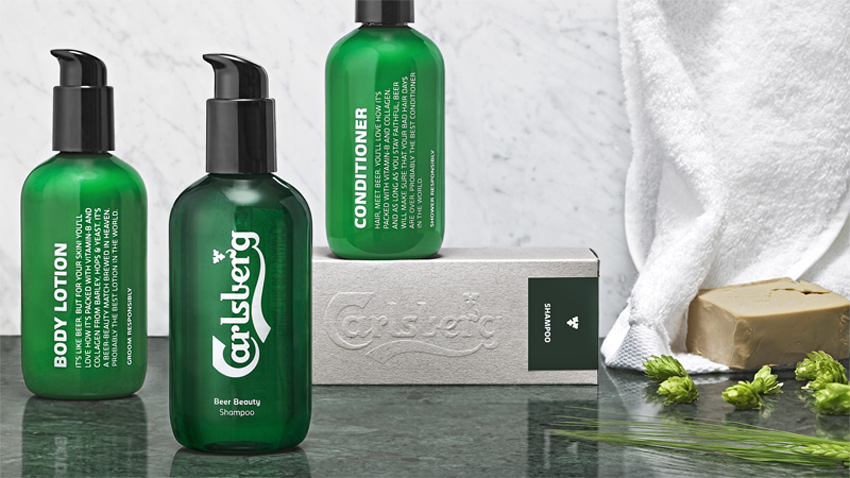 I've checked the calendar and it's July. It's not April or to be more precise, it's not 1 April.
It may sound like an April fool's joke but it's not.
Carlsberg, the famous Danish beer company has just released a new product.
"A new product?" I hear you say.
What would be a suitable new product for a beer company?
Some of you may be thinking that it's a new flavour of beer or maybe a complimentary product such as a "stay chilled beer glass" but no, Carlsberg have taken the concept of brand extension a step further.
They have just announced the launch of a series of male grooming products. Yes, shampoo and body wash for men made out of Carlsberg beer.
In a partnership with cosmetics producer Urtegaarden, Carlsberg has launched a product range which contain the main ingredient found in Carlsberg lager (barley, hops and yeast) but instead of producing it in such a way that you drink it, it is produced in such a way that you rub it on your hair or body to wash.
Now, whilst some of us have no doubt ended up with beer on our hair and/or body when we were younger this time it would be a deliberate move to keep clean.
A survey conducted by Epinion found that 65% of men in the UK were daily groomers and nearly half of the men used their girlfriends or wives grooming products on a weekly basis.
Zoran Gojkovic, who not only has a great job title being "Director of Research at Carlsberg Laboratories", was also quoted as saying "Men do care about looking good, but they often seem to lack alternatives to the more female-friendly beauty options available. And what better way to give them just that, than to introduce a grooming series made from beer?"
Each product in the Beer Beauty series contains 0.5 litres of real Carlsberg beer which is freeze-dried into powder and then mixed with organic ingredients in order to create products including shampoo, conditioner and body lotion.
Will this mean that wives and girlfriends the world over will no longer be criticising men when they say they "stink of beer"?