Is it clothing or a blanket?
If you've just had a baby the concept of taxation is probably one of the last things on your mind but for anyone who has purchased a SnuggleBundl for their baby there is an interesting link to taxation.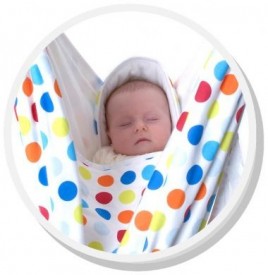 According to the manufacturers the SnuggleBundl is "the world's first lifting wrap for babies. This beautiful multi-award winning hooded baby garment ties at the front and the soft, strong handles on this wearable wrap let you lift and lay your baby so gently that they'll stay sleeping".
It seems that they have been selling very well and there have no doubt been lots of parents, babies and possibly very small adults who are extremely pleased with the warmth and comfort of the SnuggleBundl.
The tax authorities though had different things on their minds. They were more concerned as to whether the SnuggleBundl was baby clothing or was a blanket.
And the reason the tax authorities were so concerned about the classification was because of?
Well, the reason was all down to VAT. As is the case in a number of countries, the UK tax authorities do not levy VAT on children's clothes. They do however levy VAT at 20% on blankets.
The tax authorities claimed the product was a blanket whilst the company claimed it was clothing.
The simple difference was that if it was classified as clothing it would be sold for £34.99 whereas if it was classified as a blanket it would be sold for £41.99 (£34.99 plus 20% VAT of £7).
This difference in price would have a major impact on the number of SnuggleBundl's sold as it's a big difference for a parent if they have to pay £34.99 or £41.99 for the item.
Given that in both of these cases the company would end up with the same amount of money, it was obvious why the company wanted it to be classified as clothing (if the item was classified as a blanket and sold at £41.99 the £7 VAT would need to be paid over to the tax authorities by the company leaving them with £34.99).
In what no doubt caused a huge sigh of relief the company (plus a few happy gurgles by some babies) the company won the case and the courts found that the product was in fact clothing and not blankets.
The directors of the company can sleep peacefully now…