Is it ok to fall asleep in the office?
Have you ever felt the need to close your eyes for a few seconds at work? Maybe even for a few minutes? In fact, have you ever fallen asleep at work?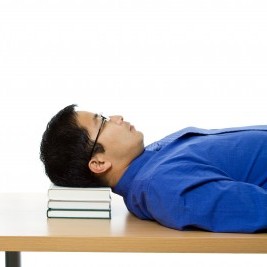 Now, whilst there may be occasions where people are working such long hours that they are physically exhausted and maybe grab a quick rest, there are also some people who are just, how can I put it, but plain lazy.
If you have lazy people working in your team there are various ways to deal with them. For example, setting clear targets and finding out what really motivates them.
Over in China though some senior employees at a tax office in the Shanxi province were told to attend video conference training on how to get rid of laziness in the office.
The aim of this training was to remind officials that they couldn't play games or undertake other recreational activities at work.
Although this was a good idea in principle, in reality it didn't prove to be particularly successful.
The training was by way of 2-way video conferencing and five of the senior level officials from the tax bureaux that attended the "laziness prevention video conference" were spotted either reading newspapers or sleeping.
Brilliant! You're told to attend a conference on dealing with laziness and you then go and fall asleep during it.
The end result was that they were all suspended from their jobs.
Looking on the bright side though, being suspended from work will of course enable them to catch up with some sleep at home.