When is a foot not a foot?
Fast food is big business but for Subway, the world's largest restaurant chain with 38,000 restaurants in 100 countries, something isn't quite big enough.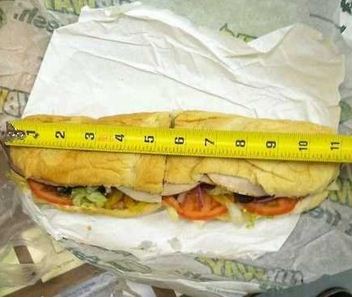 Subway is famous for their "Footlong" sandwiches whose name implies should be a foot long (12 inches / 30 cm).
Their "Footlong" has been the backbone of their advertising for a number of years and any company's advertising should be accurate and shouldn't be misleading.
Well up step Australian Subway customer Matt Corby who purchased a Footlong and measured it before eating it. He then took a photo and posted it on Subway's Facebook page with the request "subway pls respond".
The photo is shown above and as can clearly be seen the Footlong isn't in fact a foot but is 1 inch short at 11 inches.
Was this evidence that Subway had been deliberately misleading their customers by calling it a Footlong when it should have been called an "11 inch long"?
Does the extra inch matter?
Well, things took off quickly on Facebook and there were soon more than 100,000 likes and over 5,000 comments to Matt's post. The shock discovery that the Footlong was an inch short of bread soon spread around the world.
Subway quickly supplied the following statement to the Chicago Tribune newspaper:
"We have redoubled our efforts to ensure consistency and correct length in every sandwich we serve. Our commitment remains steadfast to ensure that every Subway Footlong sandwich is 12 inches at each location worldwide."
Is this going to be a good enough solution to the problem of the missing inch of bread?
Unfortunately for Subway within hours a number of lawsuits were filed in America in connection with the missing inch.
One of the lawsuits filed by Mr Buren from Chicago for example is claiming that the Footlong sandwich product is false advertising and as a result he is suing the company for $5 million.
Now, I'm an accountant and not a lawyer but if he's successful the $5 million will buy an awful lot of 1 inch pieces of bread…