Is this the best advert at the Olympics?
So the Olympics are well and truly underway and whilst a lot of the athletes have been inspirational in terms of their performance there have also been some inspirational performances by businesses.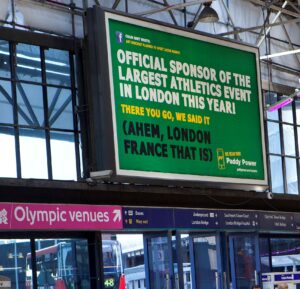 There are a number of official Olympic sponsors (for example, McDonald's, Coca-Cola, BMW and Visa). These companies have paid the Olympic authorities big amounts of money to be official sponsors.
LOCOG (the London Organising Committee of the Olympic and Paralympic Games) have been particularly vigilant in terms of monitoring for any unauthorised use of the Olympic name or Olympic logo by companies which are not official Olympic sponsors. For example, they have swiftly taken action against any company that has illegally used the Olympic name in advertising.
Irish bookmaker Paddy Power has got a reputation for, how can I put it but controversial or cheeky advertising.
A few days before the start of the Olympics, Paddy Power sponsored an egg and spoon race (a children's race where children run whilst trying to balance an egg on a spoon).
This egg and spoon race took place in a small French town. The nice thing though was that this small French town was called London and as a result Paddy Power designed their latest poster advertising campaign with the following text:
"Official sponsor of the largest athletics event in London this year! Ahem, London France that is)."
LOCOG instructed their lawyers to get the posters removed but Paddy Power's lawyers successfully pointed out that they had not broken any law and the posters remained in place.
A great example of gorilla marketing and a gold medal performance by Paddy Power.