Does $300m mean bigger is better?
Here's an interesting development. MP3 players such as the iPod Nano are getting smaller and smaller but due to advances in technology the sounds that they emit are getting better and better.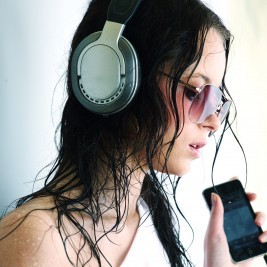 Whilst music fans are appreciating the portability of the smaller MP3 players together with the flexibility of having quality music players on their phones there's a trend at the moment of the headphones getting bigger and bigger.
It used to be bigger players and smaller headphones but now it's the other way around.
As is often the case it's the fashion conscious younger generation that are driving the change.
HMV, the UK chain of music shops where people used to flock to to buy the latest CDs has unsurprisingly seem a dramatic drop in sales of CDs as more and more people are now buying their music online via Apple iTunes for example.
There is some short term hope for HMV though at least in terms of their sales of headphones and it's been reported that their sales from headphones and other technology will shortly exceed their sales of CDs and DVDs.
Now these headphones aren't cheap. Some of the better known high end headphone brands such as Dr Dre go for in excess of £350. That's quite a lot when you consider the iPod Nano that the headphones could be plugged into retails for less than £100.
Manufacturers have started to segment the market nicely for headphones with for example the Bob Marley Reggae inspired "House of Marley" headphone range recently being launched by Bob Marley's son Julian.
So, what's next on the horizon in the business world when it comes to headphones?
I mentioned one of the best known brands of headphones Dr Dre earlier and you've no doubt heard of HTC which offer very good Smartphones and are in competition to Apple and their iPhone.
Well, earlier this summer HTC paid $300 million for 51% of a US company called Beats Electronics. What's the main brand that Beats Electronics has? Yep, none other than Dr Dre.
This could be quite a smart move by HTC.
They are building up their technology and design on the Smartphone side of things and by buying Dr Dre they are getting a sudden jump up in headphone technology.
Will this be the sweet sound of success for HTC?