Some spicy people to follow…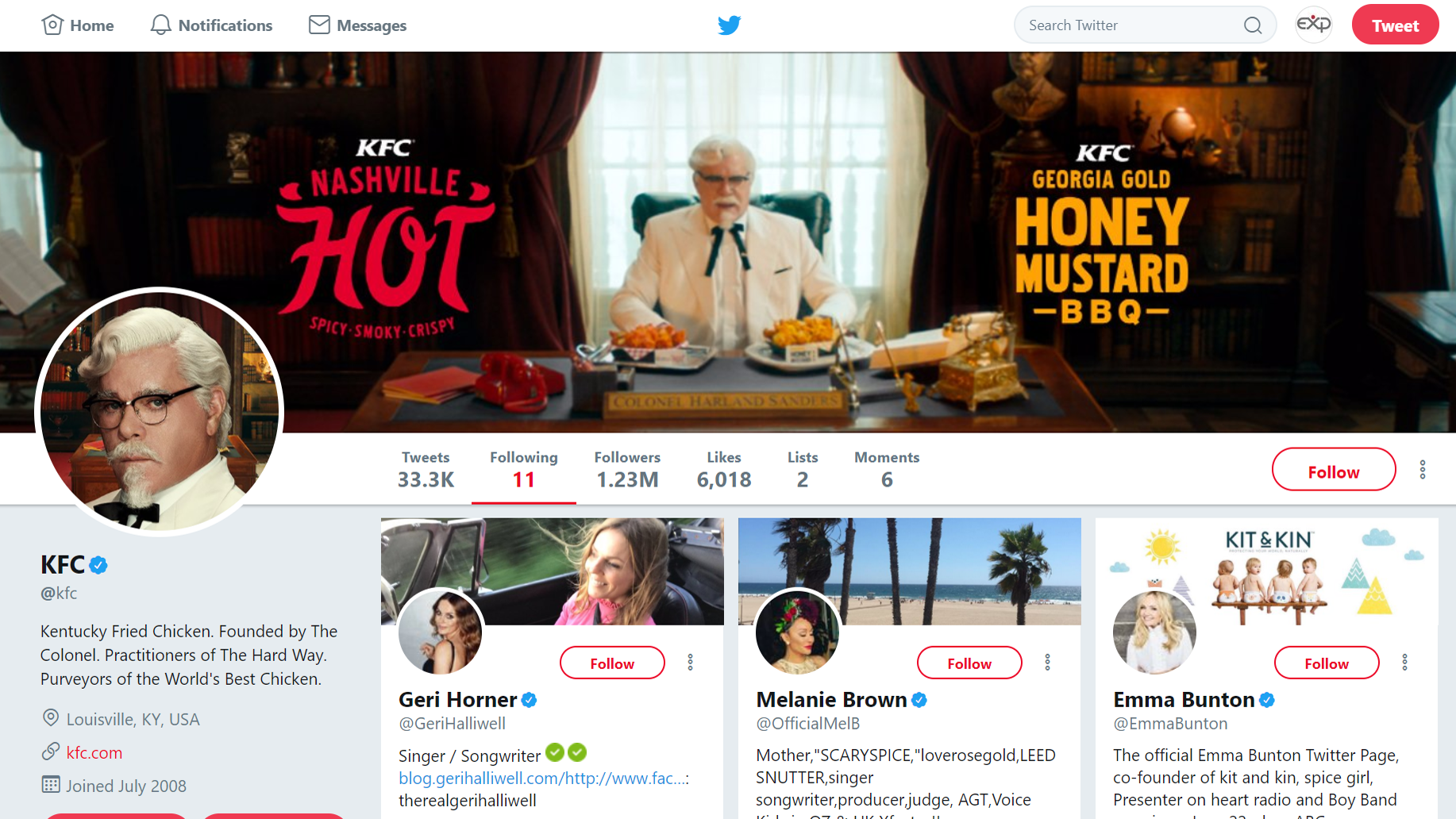 There are over 300 million twitter accounts and more than 500 million tweets are sent per day. That's an impressive figure that works out at over 5,000 tweets per second.
It can be a useful tool for companies. They can use it to engage with their customers and potential customers by way of branding and promotional activities. They can also use it as a form of a helpdesk or customer support. The Dutch airline KLM for example uses Twitter and Facebook to enable customers to contact them and get a reply within an hour.
Most companies will use Twitter to promote items or get their message out but Twitter user @edgette22 has identified a secret the fast food giant KFC has been keeping within their Twitter account.
KFC is the world's second-largest restaurant chain (as measured by sales) after McDonald's, with nearly 20,000 locations globally in over 100 countries.
They also have over a million Twitter followers.
But they only follow 11 people.
And the 11 people they follow are a strange mix.
KFC follows:
Geri Halliwell, Mel B, Emma Bunton, Mel C and Victoria Beckham (in other words the 5 ladies who made up the Spice Girls).
They also follow Herb Scribner, Herb J. Wesson Jr, Herb Waters, Herb Dean, Herb Sendek and Herb Alpert.
Or to put it another way, KFC follow five Spice Girls and 6 Herbs.
Five spices and six herbs?
That sounds familiar as the secret recipe for KFC chicken is 11 herbs and spices.
Either the social media department of KFC were having a quiet day and decided to play a few games or it was a deliberate move to get people talking about KFC when their followers were noticed.
Either way, congratulations are due to whoever was behind the idea.