Would you like to do this at lunchtime?
What do you normally do at lunchtime?
Do you grab a bite to eat and head back to your desk to continue working (or at least pretend to work whilst playing on the internet)?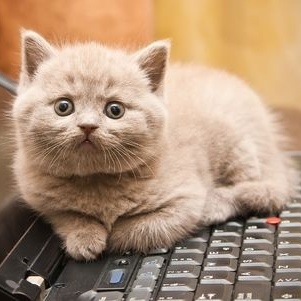 Do you grab some fresh air outside the office to recharge your batteries?
A recent initiative between the app based taxi service Uber and an animal rescue organisation has resulted in what I think would be a fantastic way to spend your lunch break and also to recharge your batteries.
You can get a kitten delivered to your office for 15 minutes between midday and 4 pm.
Yes, a real live cute fluffy kitten!
What a great way to de-stress the office – adorable kittens arrive for 15 minutes of playtime in the office.
The kitten visit costs approximately £20 and they can be ordered vie Uber's app. All the proceeds go to the animal rescue centre.
Everyone here in the office was getting excited when they heard the news but sadly the service isn't currently available in the UK (at the moment it is only available in Australia and America).
I think it's a brilliant idea though – it can help de-stress the office, the cat's rescue centre gets additional revenue and if you happen to fall in love with the kitten the kitten may well find it's new "forever home" rather than have to stay at the cat's rescue centre.
It also has an added benefit if you happen to dislike a colleague in your office who is allergic to cats…