London cab drivers, "the knowledge" and mixed costs…
I think that London taxi drivers are brilliant. There's never a dull moment and if you want a conversation you'll certainly get one when you're in a black cab. To be honest, half the time if you don't want a conversation you'll still get one.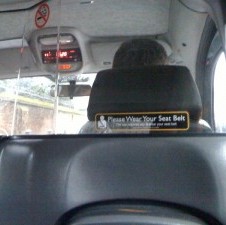 London cab drivers have to pass rigorous tests before they are licensed to drive a black cab. "The knowledge" is a term used for the exams that the drivers have to pass and ensures that they know their way around the streets of London without having to refer to satnav systems or maps.
My own personal view though is that "the knowledge" also refers to the fact that the drivers generally have a strong opinion on most things and seem to know everything about everything! To be fair I was quite impressed with the driver of the cab I was in last night. When he found out that I taught finance he went on to point out that the taxi fare I was about to pay him was classified as a "mixed cost" as it was partly a fixed cost (the minimum fare) and partly variable (the charge per mile traveled).
I'll give him credit where it's due as he was absolutely right. Fortunately for him though the journey came to an end before I could test him on other costing methods…