Man's best friend as well as a money processor.
The bond between man and dog can be pretty strong. It's difficult to be precise about when the relationship first started but common thought is that the grey wolf was domesticated 20 to 30 thousand years ago. Since then the relationship has strengthened.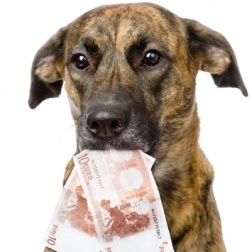 Whilst dogs can provide a range of working support to humans (e.g. guide dogs for the blind, search and rescue support, etc) the majority of dogs are simply loved by their owners for being their pet and a cherished member of the family.
Sundance, a 12 year old Golden Retriever, provided his owner with a unique challenge though and no doubt pushed the boundaries of love between man and his dog.
Wayne Klinel from Montana in America left Sundance alone in his car whilst he grabbed some lunch with his wife.
When he returned to the car he found that Sundance had also had lunch. Sundance's lunch though was more expensive than his owners as the dogs lunch took the form of five $100 notes that Mr Klinel had left hidden in the car.
Alas for poor Wayne all that was left of the notes were small pieces of some $100 notes.
The U.S. Department of Treasury's does in fact have a Mutilated Currency Division where people can apply to have mutilated currency replaced.
Now this would be an extremely easy "get rich quick" scheme if you could simply write to the Mutilated Currency Division and say that your dog had eaten some money and to request some replacement money.
Instead, you need some form of evidence to support your claim.
So, your dog has just eaten $500 and you need evidence. What would you do?
Well Mr Klinel decided to follow Sundance around and collect his, how can we say it but, collect his little "dog logs".
Yes, in true dedication to the task, Mr Klinel collected the droppings of Sundance and using an old metal mining screen and a hose he separated out the bits of dollar notes from the rest of the matter.
After cleaning the bits of notes he assembled them as best he could and sent them off to the Mutilated Currency Division.
Despite no doubt being somewhat surprised by the unusual aroma coming from the envelope that the bits of dollar bills were sent back in, the Mutilated Currency Division did the honourable thing and sent Mr Klinel a cheque for the mutilated money.