Marks & Spencer – the figures weren't padded out but what about…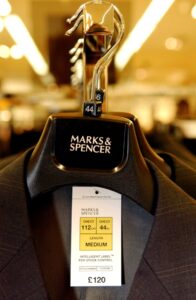 Marks & Spencer (M&S) are one of the best known retailers in the UK. First established back in 1884 they have been a mainstay of British fashion for as long as anyone can remember.
They have however had a turbulent journey over the last few years but yesterday they announced their results for the quarter ended 2 October and a number of things were quite impressive.
First of all, the ability to release their figures within 3 working days of the end of the quarter was in itself no mean feat.
The figures themselves were also very good with group sales up by 6.5% and all the major divisions showing impressive growth. So, how have they managed this? After all, although we're coming to the end of the recession people are still being careful about money.
According to Marc Bolland, the Chief Executive of M&S, "Customers are returning to quality. In Food they are responding well to our better value and innovation, and in Clothing are increasingly choosing M&S's great fashions and quality that lasts."
They were also successful in introducing "innovative new products" (classic Ansoff's Product Development). For example, they have just announced that they will be the first to launch men's "enhancing underpants" on the UK high street.
On the ladies side of things the success of the "Wonderbra phenomenon" has been well documented since they were introduced in the 1990s but in the words of M&S the Bodymax enhancement pants for men have a number of advantages.
The "frontal enhancement pants" are "specifically designed to visibly enhance your shape" and the "bum lift pants" are said to "lift and shape your buttocks for a visibly sculpted look".
Mr Bolland also said that there had been "a positive response to increased investment in marketing". It will be interesting to see how they market the enhancement pants.
Now, you're possibly thinking what sort of person would buy these enhancement pants? You may also be wondering how comfortable they are to wear.
In answer to this final point I'll let you know as soon as my pair are delivered.