Monte Carlo or bust.
I bumped into an old friend of mine that I haven't seen for nearly a year the other day. He's a really good guy and I've known him a long time. We were chatting over a coffee and the subject of Grand Prix motor racing came up. He's a keen follower of the sport and was excited by the prospect of Jenson Button joining Lewis Hamilton on the McLaren team. He was even more excited in that he was planning a trip to the Monaco Grand Prix this coming May with a group of friends. It was a lifelong ambition of his to make the trip to Monaco to see the Grand Prix and he's been lucky enough to secure some tickets for the Grand Prix in May.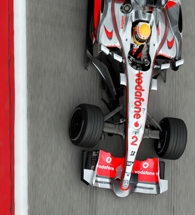 I was excited for him and, if I'm honest, slightly jealous! Having said that, May is always a busy month for us tutors so I'm not sure I'd be able to get the time off to join him. In fact, the closest I'll get to Monaco in May is the Monte Carlo simulation model which as every good P4 student knows is a model that uses probability distribution analysis to analyze the possible outcomes of a project. It is built on the simultaneous changes of many variables, the relationships between these variables being defined in advance, e.g. if price is reduced, how much demand may go up. (Monte Carlo is also a district within Monaco!).
Now, I love teaching P4 and explaining the mechanics of the Monte Carlo simulation is good fun but I must admit that if a spare ticket does comes up then the joys of teaching the Monte Carlo model may have to take a back seat to the joys of watching the Grand Prix!