Nike and Michael Porter – generically speaking I think it's somewhere in between…
The French football team revolted yesterday and refused to train, football powerhouse Germany lost to Serbia, defending champions Italy failed to beat football minnows New Zealand and England were embarrassing in their game against Algeria on Friday.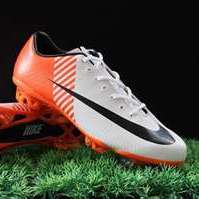 At least Nike seem to be getting it right though.
Last week we blogged about the Bavaria girls and their ambush marketing at the World Cup in South Africa.
Nike, which was established in 1962 by Phil Knight who incidentally was an accounting major, is one of the best companies in the world in terms of getting its marketing just right.
They have a long history of having a certain flair for marketing. After the 1972 Olympic marathon trials for example they proudly announced that 4 of the top 7 finishers had worn Nike shoes. They neatly ignored the fact that the top 3 were wearing Adidas shoes!
Although Adidas are the official sportswear sponsors of the World Cup, Nike are doing rather well in terms of their profile.
Anyone that has seen a World Cup match will no doubt have been drawn to the orange Nike boots that a lot of top players such as England's Wayne Rooney and Portugal's Cristiano Ronaldo are wearing.
These boots, or Nike Mercurial Vapor Superfly II Elite boots (retailing at GBP 275) as they are officially known, are arguably catching people's attention more so than any promotion that Adidas have done at the tournament.
Students of strategy papers will be aware of Michael Porter's generic strategies whereby organisations compete either by way of cost leadership or differentiation (see our ExPress notes for a refresher if you're unsure about these terms).
It can be argued however that Nike take the best of both of these approaches.
They focus on the differentiation side of things by investing heavily in R&D, design and marketing. As a result they can charge a premium for being "different".
On the cost leadership side of things then Nike use external manufacturers rather than internal production. This means that they can source their manufacturing via approved suppliers which they will select for each product on the basis of the best price offered by these suppliers. It enables them to shop around for the best price whilst still guaranteeing the quality.
All in all a very smart business model but I'm sure that fans of the World Cup are more interested in the goals that are scored with these boots rather than the business model behind them.