Not the best day in the office for this lady…
Winning the lottery is a life changing experience.
The recent Euromillions lottery had a first prize of £38 million.
In a lot of companies, groups of individuals get together to form a syndicate and they combine their money and enter into a lottery.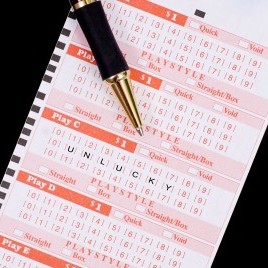 The idea is that by combining your money you have more entries and you're more likely to win. To be honest though anyone with a basic understanding of maths will realise that the chances of winning are still infinitesimally small.
When colleagues from an organisation set up such a syndicate to enter the lottery it's advisable to have a written record of what was agreed (for example what happens if someone is away and can't pay their share of the lottery money).
A group of 13 bus drivers working for the Stagecoach company in the UK formed a lottery syndicate and agreed to put in £2 per week to enter the lottery.
Six months ago one of the syndicate, a lady by the name of Miss Loveday (or Miss Unlucky as she will soon no doubt become known) decided to withdraw from the syndicate as she reportedly couldn't afford to pay the £2 to enter each week.
Fast forward to last week and the winning lottery numbers matched those chosen by the syndicate.
Their winnings? A rather pleasant £38 million which works out at over £3 million each.
Having withdrawn from the office syndicate 6 months ago Miss Loveday doesn't get anything from the lottery win.
Now, we've all had bad days at the office but finding out that you're not an instant multi millionaire because you stopped paying your weekly £2 entry fee 6 months ago probably ranks up there as being "a really bad day at the office".
One of the winning drivers wasn't overly sympathetic about her plight though as he was reported as saying "You've got to be in it to win it".
The one piece of good news for the unlucky Miss Loveday is that she doesn't have to listen to any of the winners celebrating their win as all of them resigned immediately from their £17,000 a year jobs and didn't bother going into work the day after winning…