Surely everybody should get this benefit at work?
Having a motivated team in the office is key to any business. As well as a salary component, a person's remuneration package could include other benefits such as flexible working days, health insurance and access to an executive jet.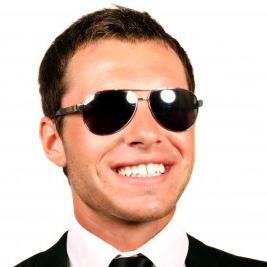 I mentioned access to an executive jet because surely all of you have got regular access to the company jet to whisk you off to exotic places??
Bloomberg has reported on a Philadelphia lawsuit by a former pilot of the fashion giant Abercrombie & Fitch's corporate jet.
To cut a long story short, the 55 year old former employee is claiming that he was discriminated against when he was replaced by a younger man.
As will soon become apparent, my guess is that he may well have been replaced by not only a younger man but by a better looking younger man.
It's been reported that according to papers submitted to the court, Michael Jeffries, the chief executive of Abercrombie & Fitch insisted that models were hired to work as stewards on the plane.
These models stewards had to be clean shaven and wear a uniform of Abercrombie & Fitch polo shirts, boxer briefs, jeans and flip flops.
As well as insisting on male models being stewards it also claimed that if Jeffries, his partner Matthew or any other guest made a request they should respond by saying "no problem".
The other thing which I personally think should be a benefit provided to all employees is that Jeffries was also able to take his 3 dogs with him on the jet and there were even detailed instructions on the seating arrangements for his dogs when they travelled with him.
So there you go. The next time you're discussing your annual review in the office feel free to say that as well as salary, healthcare, and flexible working arrangements you want access to the company jet with male or female models of your choice employed as stewards or stewardesses on the plane.
Oh, and don't forget to insist on jet travel for your 3 dogs…