Surely this should be the Next face of the future?
If you visit the website of clothing retailer Next you will see some stunningly good-looking male and female models.
Next is a very successful company. They are part of the FTSE 100 index which means they are one of the 100 largest quoted companies in the UK. Their latest annual results show revenues of nearly £3.5 billion.
They clearly know what they are doing when it comes to marketing and branding.
Or do they?

They have just launched their "Make me the Next model 2011" competition whereby people who think they have the looks to become a top Next model can put themselves forward.
The public then vote for who they think is the best looking and the winner will be featured in Next advertising as well as get a contract with Storm modelling agency.
The screenshot to the left shows the current voting and whilst I'm not an expert on all things fashion I do think that the person who currently holds the top spot is a worthy leader.
Roland, from Belfast, is currently heading up the votes by a considerable margin and surely would make a perfect Next model?
We blogged recently about Henkel's crowd sourcing campaign being hijacked so is this another example of a campaign being hijacked?
Next are a switched on company and if you dig deep into the terms and conditions of their 2011 model competition you find the following:
"The 250 Finalists will be judged by a panel of judges including representatives from Next and Storm who will pick the 50 who they feel best fit the Next brand and who will make it through to the Grand Final on Saturday 30th July.

The 50 Grand Finalists will be judged by the same panel and 2 winners will be announced at the event on 30th July 2011."
In other words, Next have sensibly said that they will choose the winning models from the 250 entries with the most votes.
I still think that Roland would make a great Next model though.
Whatever happens this has been a great bit of marketing for Next. At the time of writing Roland's picture on the voting page has been "liked" 42,000 times on Facebook and he has had nearly 5,000 tweets on Twitter.
Their website has also no doubt seen a surge of visits.
Now, if there were only another 249 Roland characters out there that entered the competition it would make the final very interesting.
Good luck Roland!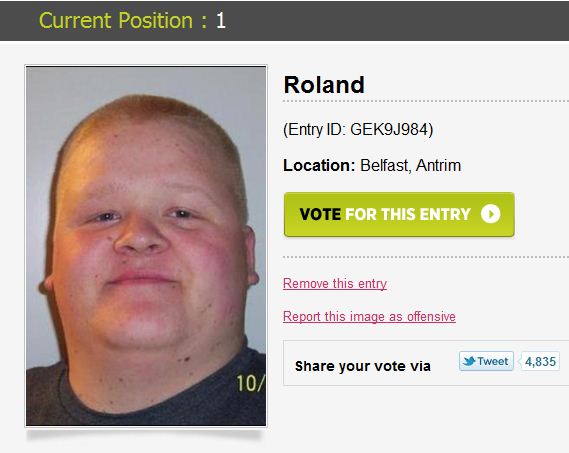 If you found this item interesting you may also like: