T-shirts and IPOs. Fashion or finance?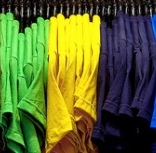 I was impressed with two of my students last week. One of them was wearing a Superdry T-shirt and instead of talking about the fashion side of things they were discussing the concept of initial public offerings (IPOs).
If you're not aware of the Superdry brand they are part of the Supergroup company which was launched 6 years ago and has fast become an iconic fashion brand with celebrities such as David Beckham seen wearing their clothes.
Supergroup is planning on raising £125 million to fund future growth plans and reward shareholders. Methods of raising funds for companies are often examined in the professional exams and as well as understanding the methods having an appreciation of the topical issues will help the good students stand out in the eyes of the examiner.
Supergroup has gone against the recent IPO trend though as they are still planning on going ahead with the offering! Given the volatility of the equity markets so far this year, fellow retailers New Look and Matalan recently announced plans to postpone their proposed IPOs. Blackstone, the operator of Madame Tussauds in London also recently announced that it would shelve plans to float.
The Supergroup IPO will be an interesting one to follow as if it is successful then it could well encourage other companies to look for similar fund raising.
Whatever happens though given the topic of discussion was on IPOs rather than fashion then I'm sure that the two students will have a future career ahead of them in finance rather than fashion…