The flight is cheaper than a single piece of paper…
Ryanair is Europe's largest low cost airline.
Their strategy is very much based on cost leadership and is a classic "no frills" approach on the strategy clock model.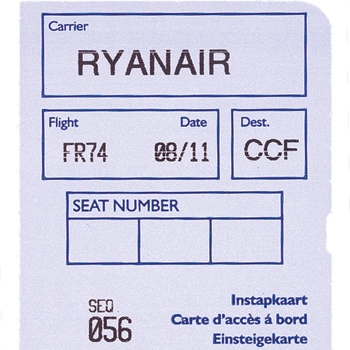 In simple terms you don't pay a lot for the service but at the same time you don't get a lot. This approach can be very successful when comparing for example to another extreme where you pay a lot but don't get a lot!
It released its results for the final quarter of 2010 today.
Air traffic control strikes and the bad weather in December were blamed for the Euro 10 million loss that was reported although the company is still confident of achieving full year profits of between Euro 380 million and Euro 400 million for their year ended 31 March 2011.
The average fare during the last quarter was reported as being Euro 34 and this will get you the flight and that's about it. Extras which require additional payment include taking hold luggage, payment by credit card and seat allocation.
Their whole ethos is to minimise their costs. For example, they have a pretty aggressive policy when it comes to boarding passes.
Their terms and conditions state that passengers must print out their boarding pass at home. If they fail to do so and need one printed out at the airport then Ryanair will charge the passenger £40 to print the one piece of paper.
£40 to print a single piece of paper is pretty high but Ryanair argue that if passengers print out the boarding pass at home then it saves the cost of employing check in staff at the airport.
They have reported that people who forget to print out the boarding pass and are subsequently charged £40 remember to print it the next time.
Of course, it could be that if they've been charged £40 for printing one piece of paper then "next time" may well be with another airline as opposed to Ryanair.