The sound of the tills ringing was music to their ears even though there was no music in the shop…
Christmas shopping for me is normally a last minute rush before the shops close on 24 December.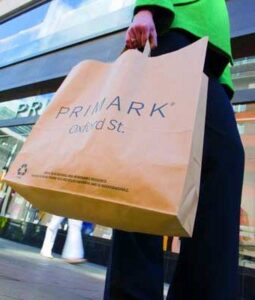 This year though I was determined to be organised and last weekend headed off to hit the shops in London's West End.
It was a pleasant surprise to find that arguably the two most famous shopping streets in London (Oxford Street and Regent Street) were car free as they had been shut to traffic to encourage early Christmas shopping.
Although the streets were closed to traffic the number of shoppers made up for it. It also seemed as though every other shopper walking along Oxford Street was carrying a Primark shopping bag.
For those of you that haven't heard of Primark, they are a very successful budget clothing brand with 145 shops in the UK together with an additional 62 shops in 6 other countries.
They compete via a classic cost leadership strategy whereby they keep their costs low by way of a variety of business techniques including for example:
• Purchasing stock in huge quantities so as to benefit from economies of scale;
• Only stocking items in popular sizes so as to avoid "using up" valuable shop space with items that don't sell so well;
• Minimising advertising spend (why pay models and magazines when they can let their prices do the advertising for them?);
• Not playing any music in its stores (why pay licence or royalty fees to artists?).
As well as focusing on cost leadership they are masters at "fast fashion". In other words, they manage the supply chain to get the fashionable styles into the shops as quickly as possible so that they match the very latest designs that are seen on the catwalks and in the fashion magazines.
Gone are the days of fashion having 4 distinct seasons as far as Primark is concerned.
With so many people carrying Primark bags last week then my suspicion was that they were doing very well with their sales.
Press reports yesterday did indeed indicate that Primark did very well at the weekend.
It was reported that they had their most successful one day single shop performance in their 41 year history on Saturday.
The tills at their Oxford Street branch rang up to the tune of £820,000 in the one day.
Whichever way you look at it that's a pretty good figure for one day's worth of sales at a single shop.
Their cost leadership approach to strategy seems to be working. As well as their success on Saturday, their reported profits for the 53 weeks to 18 September 2010 showed profits increasing by 35% to £341 million on sales up 18% to £2,730 million.