To be on the safe side, let's play football without a ball…
A school in the UK where a number of top footballers went to when they were children has banned leather footballs for health and safety reasons.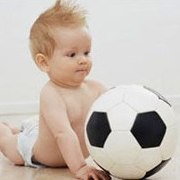 Malvern Primary school in Liverpool where England and Liverpool player Steven Gerrard studied has just announced that in order to reduce the risk of injury to children whilst playing football at break-times leather footballs will be replaced by foam sponge balls.
Whilst health and safety is vitally important for both private companies and public institutions such as schools there will be a lot of people who will feel that maybe this is a step too far.
When I was a child I played football at school with a leather ball and I must admit that I never really felt overly threatened by the ball or exposed to personal danger as a result of (sometimes) being in the close vicinity of it.
Also, if I'm honest I was so bad that I would stumble over the ball whether it was leather or foam.
The argument by the school is that as there are children from the age of 4 to 11 present then there could be a risk of injury if one of the younger ones was hit by a leather ball.
There is also the other view that playing football with a foam ball will discourage children from playing and hence undertaking some form of exercise which as a result could increase the health and safety issues from obesity in children.
Looking on the bright side though, when the 2030 World Cup Finals take place with a foam ball at least England will have a chance of getting past the first round. That is of course as long as it isn't raining during the finals in case by then they are not allowed to play in the rain.