The Vatican Bank publishes its first set of accounts.
The Institute for Religious Works, or as it is more commonly referred to, "The Vatican Bank" has released its first set of published accounts.
The report comprises a hefty 100 pages and contains some interesting figures.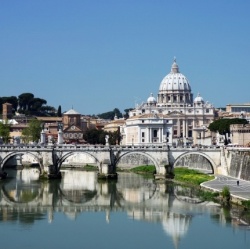 The bank's balance sheet total was €5 billion and it had a net profit of €87 million in 2012. This was more than four times the profit it had in 2011.
So, what has caused the increase in profit?
The report highlights that the banks economic performance was "driven above all by the development of interest rates in the Eurozone".
Interest rates fell across the Eurozone in 2012 and the Vatican has nearly €3 billion in trading securities, most of which are government and index bonds. As interest rates have fallen in Europe, the value of the bonds they hold has increased.
A simple example to illustrate the increase in the value of their bonds as interest rates have fallen would be if they held a bond with a nominal value of €100,000 with a fixed interest rate of 4% they would be guaranteed to receive €4,000 of interest. If the market interest rate subsequently fell to 2% they would still be entitled to receive the fixed €4,000 of interest. The fact that interest rates are now only 2% means that the bond would have a market value of €200,000 (i.e. to get €4,000 of interest at a 2% rate you would need to invest €200,000)
As a result of the fall in interest rates the value of the Vatican's fixed income holdings is up by in excess of €50 million.
The report also reveals the bank had €41 million in gold, coins and other precious metals, a stake in an Italian real estate company and it received two inheritance properties worth approximately €2 million.
If you're interested in looking at the full report, here is a copy of the Vatican Bank's published accounts.