Was this the deal of the day?
Last Friday Groupon raised $700 million in its initial public offering (IPO).
Some of you may have heard of Groupon. It's done remarkably well in the 3 years since it started in 2008 and now has over 100 million users.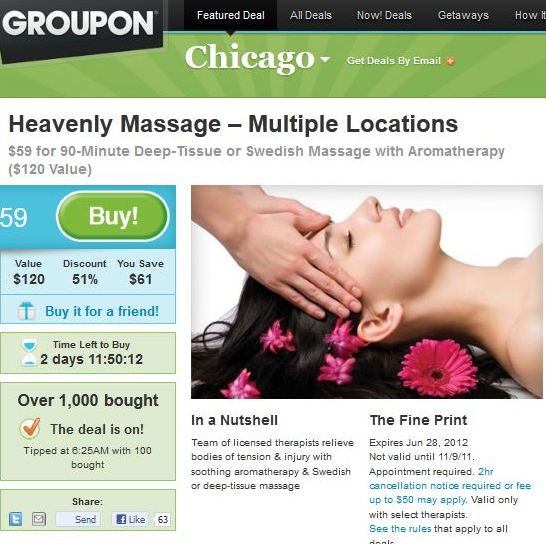 It's a daily deal site whereby people sign up to get daily "special offers". The business model of Groupon is such that when people buy a "special offer voucher" to use on a deal, Groupon shares the revenue with the service provider that is providing the special offer.
Interestingly enough their arrangement is such that if somebody buys a special offer voucher but then subsequently doesn't use the voucher then Groupon keep all the revenue.
In simple terms an IPO is where the owners of a private unquoted company offer a proportion of their shares to the general public.
Let's look at some of the figures.
A relatively small proportion of the company was offered in the IPO (just over 5%) but $700 million was raised. This values the company at nearly $13 billion. Not bad for a business that started just over 1,000 days ago.
In the past, other tech companies that have undertaken an IPO include Google who raised an impressive $1.7 billion back in 2004. Since then Google has gone on to become a $200 billion company but will Groupon grow to such heady heights?
To me it seems that whilst the Groupon business model has so far been successful it's a fairly limited business model.
After all, it's simply offering discount vouchers and the business model would surely be easy to copy and if one of the tech big boys such as Google or Facebook decided to really push a similar voucher scheme Groupon could have real problems.
One of the challenges the Groupon business model has is that the suppliers that sign up to offer discounts on Groupon are doing so in the hope that their classic their discount voucher will be a classic "loss leader" and will result in repeat purchases by the bargain hunter customers.
Figures are not available as to how many of these bargain hunters do more than simply purchase the discount voucher and then never undertake a second purchase from the supplier but my guess is that it could be a fairly significant number.
So, in summary, a business model that is relatively easy to copy and has limited barriers to entry combined with a customer base who are always looking for the next bargain (which may well be with another discount voucher company). This seems to me to be a risky investment.
Luckily for Groupon a lot of investors took a different view to me and at the close of the first day of trading the share price had risen to $26 from a launch price of $20.
Only time will tell though whether the IPO was indeed a great daily deal…