What has Ernst & Young found out about fraud?
Ernst & Young has just released their report on their 2013 Fraud Survey covering Europe, Middle East, India and Africa.
There were some interesting, and some would say disturbing findings.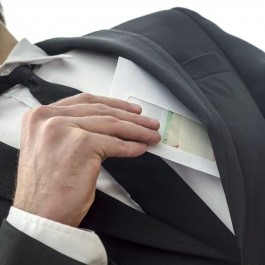 20% of the employees who were surveyed were aware of financial manipulation in their own company in the last 12 months. If you move higher up the management chain the percentage becomes higher with more than 40% of board and senior manager level individuals who were surveyed saying that sales or costs had been manipulated at their company.
When it comes to the subject of bribery, 57% of all respondents feel that bribery and corruption are widespread in their country, which rises to 67% in rapid-growth markets.
One very interesting issue when it comes to bribery is that of a compliance perception gap between management and employees.
According to EY, "While the majority of respondents are aware that their company has an anti-bribery/anti-corruption (ABAC) policy, the survey shows many organizations have a significant perception gap between senior management and employees when it comes to the relevance and effectiveness of this policy. 60% of directors and senior managers believe that their company would support people who reported cases of suspected fraud, bribery or corruption, whereas only 34% of other employees agree."
60% vs. 34% – quite a big perception gap!