What is about 20% of your height and could make some companies very happy?
Here's a good question – what is about 20% of your height and could help a number of fashion companies to increase their sales by a significant amount?
The answer is a "mini-me".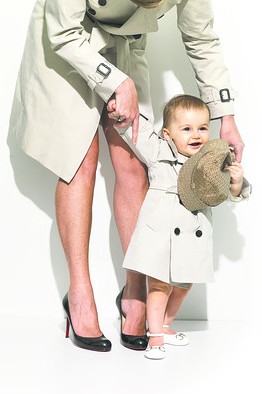 Top fashion brands such as Burberry, Barbour jackets and Ugg boots have all seen increases in sales of certain items of clothing recently and some people are putting it down to the ex-Spice Girls singer, model and husband to David, Victoria Beckham.
Mrs. Beckham recently took time out from shopping to give birth to a baby daughter called Harper.
Photos in the press show that baby Harper is not only a cute looking baby but that she also follows her mum in the fashion stakes.
Now whilst Harper is only a few weeks old and therefore doesn't get overly involved in detailed discussions with her mum as to what she will wear, the photos show that mother and daughter are wearing matching outfits.
This has resulted in a boom for sales of "mini-me clothing".
A fashionable mum who owns a Burberry trench coat for example can now buy a mini version of exactly the same coat for her young daughter for £375.
If mum wears the trendy Australian Ugg shoes then the lucky baby daughter can also own her own pair for £104.
Anyone with young children will appreciate that they grow at a remarkable rate and this got the accountant in me thinking about the "cost per hour of use ratios" that will apply to these clothes purchases.
Unless your dad goes by the name of David Beckham then I think the resulting figures will be a bit of a shock…