Does it matter if the swimmers are naked or not?
During the summer holidays at university I was lucky enough to have a temporary job as a life guard at the local swimming pool. Thankfully there were no emergencies and the most exciting thing that happened was when a locker became jammed.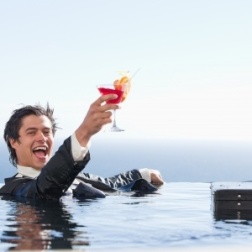 I graduated from university and now I'm an accountant. My job now involves looking at figures on spreadsheets rather than figures in the pool.
In Austria, the management of Vienna's public swimming pools carried out a survey and found that bathers were consuming on average 5,000 litres of chlorinated pool water a day.
5,000 litres of water a day is a significant amount of water. Looking at this from a finance point of view this in turn means that this is a significant amount of cost in replacing the water. In addition, the authorities have to spend £20 per day to replace the chlorine that disappears with the water.
How come so much water is being lost? Surely the swimmers are not drinking the water and it would take an awful lot of splashing to lose that amount of water.
The answer is that apparently a lot of water gets removed from the pool via the material of the swim wear. When a person wearing Boardshorts for example leaves the pool 2.5 litres of chlorinated water is trapped in the material and is removed from the pool.
So, picture the scene. You're an accountant at a sports complex and are attending a meeting to discuss cost saving initiatives for the year ahead.
Given the above findings then would a cost saving solution be to suggest that swimwear should be banned?
Now whilst this would save the cost of chlorinated water being replaced I think the number of swimmers would decline dramatically.
Importantly though I think they would save on the cost of your salary as you probably wouldn't be in the job for much longer after that suggestion.