What would you do if you had to count diamonds?
They say that "Diamonds are a girl's best friend" but it seems as though it should be "Diamonds are a great investment in times of recession".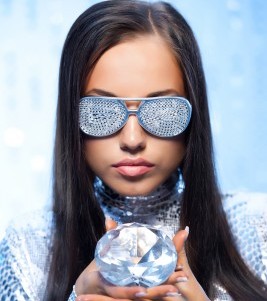 The world's largest diamond group has just released their latest results and they certainly sparkle.
Whilst a lot of companies around the world have struggled over recent years due to the global recession, the latest De Beers results make impressive reading.
Underlying profits were $968m in 2011. This was an increase of 62% on the prior year figure of £598m.
That's not a bad performance in today's economic times and a lot of the success was put down to strong demand in China where wealthy individuals were looking to purchase diamonds and diamond jewellery.
De Beers is 45% owned by the mining giant Anglo American who last November signed an agreement to increase their stake in De Beers by a further 40% by agreeing to purchase the Oppenheimer founding family's stake. This deal is expected to happen this year and the remaining 15% shareholding will be held by the Botswana government.
De Beers are a leader in the diamond industry and they produce more than a third of the world's rough diamonds. These come from mines in Southern Africa (South Africa, Botswana and Namibia) as well as Canada.
Importantly they also claim that all their diamonds are "conflict free" which in effect means they are mined ethically and with respect for both people and the environment. They are not involved in any of the "blood diamonds" or "conflict diamond" which are mined in war zones or sold to finance civil wars or terrorist activities.
At the start of my career when I was an audit junior I was involved in various year-end inventory counts which normally involved me being sent off to warehouses to count inventory by myself.
Somehow I've got a feeling that the year-end inventory count of the diamonds at De Beers was a slightly more glamorous event than the counts I attended.