Who do the Big 4 want to win the US election?
It hardly seems like 4 years ago that President Barak Obama became America's 44th president but here we are with just a few weeks to go before the next US election takes place.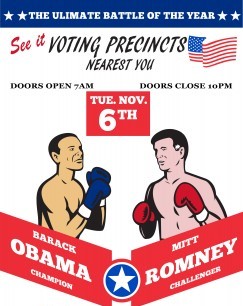 Whilst there will be plenty of arguments for and against each candidate over the next couple of months I came across an interesting website which summarises the political donations made by companies in America.
The website opensecrets.org was created by the Center for Responsive Politics which tracks money in politics.
After quickly using the search function on the site it was straightforward to identify the amount of money that the Big 4 have donated to the election campaigns for President Obama and his Republican opponent Mitt Romney.
The donations as at the time of writing are:
Donations made to Barack Obama / Mitt Romney by the Big 4:
Deloitte (Obama: $291,056; Romney: $286,110)
Ernst & Young (Obama: $38,350; Romney: $158,925)
KPMG (Obama: $24,498; Romney: $67,250)
PwC (Obama: $55,033; Romney: $266,650)
Total (Obama: $408,937; Romney: $778,935)
I'll leave it up to you to perform your own analytical review on the above figures and to decide who the Big 4 appear to want to win the next US election and of course it's probably got nothing to do with Barack Obama's plan to increase the marginal rate of tax on high earners and Mitt Romney's proposal to reduce taxes for high earners…