Who would learn from who?
Keeping your clients happy is key in any business. Every now and then an organisation comes up with an extremely creative way of improving things for their clients.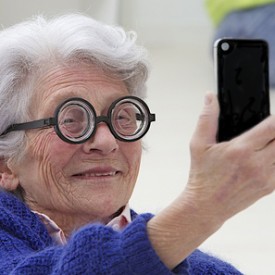 Humanitas is a retirement home in Deventer in the Netherlands.
A retirement home is accommodation that has been designed to look after the needs of old people and whilst lots of these homes do a good job in terms of looking after their clients by way of the accommodation, food and medical support one area which is often lacking for the elderly residents is fresh communication.
In the Netherlands there is a shortage of accommodation for university students and Humanitas realised there was a nice opportunity to link the shortage of accommodation for students with the need for the elderly residents to have fresh communication.
Given that the retirement home had surplus rooms they have decided to let university students live at the retirement home free of charge. The only requirement is that they have to spend at least 30 hours per month acting as "good neighbours" to the elderly ladies and gentlemen they share the accommodation with.
Yes, the university students are being provided with free accommodation in exchange for agreeing to spend time with the pensioners who live there.
I think this is a really great idea and will benefit both the students and the pensioners.
Importantly though, will we see a sudden surge of pensioners taking selfies whilst wearing a traffic cone on their head and challenging each other to drinking games…