Would you have been quick enough to think of this?
Sometimes people can be in the office and come up with a great idea. Whoever it was that came up with this idea at the Fiat office in Sweden should in my opinion get a bonus.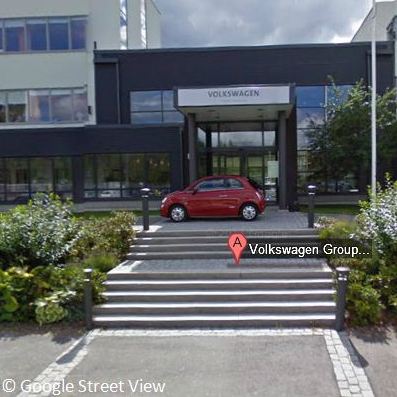 There are creative guys in many offices but my feeling is that what happened below was more of a "thought of on the spot" idea rather than a project that was planned weeks ahead.
The Google "Street View" website is a great site and enables people to (as the name suggests!) see the street view of many locations around the world.
The panoramic photos on the site are taken by special Google Street View cars that have roof mounted cameras on them.
Over in Scandinavia it looks like a creative individual at the Fiat offices in Sweden saw that a Google Street car was in the area and followed it before getting ahead of it and quickly stopping outside the main entrance to their rivals, Volkswagen.
Anyone who currently does a search on Google Street view for Volkswagen Sodertalje offices in Sweden will see an image of a lovely red Fiat 500 parked right outside the main entrance to the Swedish Volkswagen offices.
Brilliant! A great bit of creative thinking and guerrilla marketing by Fiat.
To be honest it's probably pretty good for Volkswagen as well. After all, there are now no doubt more people who have seen the image of their offices in Sweden than would have been the case if a Volkswagen was parked outside instead of a shiny new red Fiat 500.