Would you look at this advert or not?
Those marketing guys can be a creative bunch and the 2012 Olympics will be a great opportunity for them to show off their skills.
The Olympic organisers though are worried that some people may show off more than just their skills.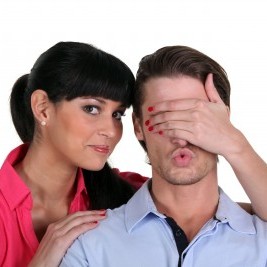 Ambush or guerrilla marketing is where companies which are not official sponsors of events such as the Olympics try to get their advertising message across without paying any sponsorship money to the organisers.
We've blogged elsewhere about Hugo Boss and Bavaria beer's attempts at ambush marketing so what are the Olympic organisers worried may happen next year?
The London Olympic Games and Paralympic Games Act 2006 (the UK law in connection with the Olympic Games) is being changed to try to prevent people from using their bodies as mobile advertising boards.
At the last Olympic Games in Athens a man invaded one of the diving events with a brand name written across his bare chest.
Olympic organisers are worried that ambush marketing may go one step further and people may "streak" naked at an event with advertising slogans written across their bodies.
Whilst a naked spectator running across an Olympic event will no doubt get the press cameras clicking it's not something that the Olympic authorities and the official sponsors would appreciate.
The change to the legislation could result in a person that undertakes guerrilla advertising at the Olympics by using advertising on his or her body being fined £20,000.
My personal view though is that this is nothing for the organisers to worry about. Given how cold the British summers are I doubt there will be many people willing to take their clothes off at the London Olympics and run as a mobile advertising board…