You get a safe hotel and a great bed. The towels and TV will cost you extra but what about the toilet paper?
The Tune Hotel chain has just opened up its first hotel in the UK. The chain already has 7 hotels in Malaysia and 2 in Indonesia and they claim they offer 5 star beds at 1 star prices.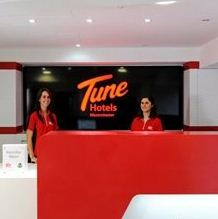 Their policy is to offer the essentials that people look for in a hotel such as safety, cleanliness and comfortable beds whilst at the same time removing a number of "extras" that some customers don't necessarily want.
With rooms starting at £35 it certainly offers great value for London hotels. It wouldn't suit everyone's taste though as some of the things that people take for granted at a hotel are not included in the standard price.
There are a number of optional extras that guests can purchase. A towel for example can be provided for £1.50 per stay whilst the use of a hairdryer will set you back £2. If you want to watch TV you'll need to pay £3 a day.
If you're the type of person that likes to take your own towel to a hotel or is relaxed about whether or not you wash then you could end up with a very cheap room.
Whilst this hotel wouldn't be everyone's "cup of tea" (incidentally there are no coffee or tea making facilities in the rooms) there will certainly be a market for people that only want a clean and safe hotel room to sleep in and are not bothered about the extras.
In the past we've blogged about the BMI Weymouth hospital that was adopting a differentiation approach to business. With Tunes Hotels adopting a hospitality industry equivalent to the low cost airline models of Easy Jet and Ryan Air, this is a great example of either a cost leadership approach or Bowman's no-frills strategy.
Guests can rest assured though that toilet paper is included in the price and is not an optional extra.