A previous Ernst & Young award winner (allegedly) held meetings in his underwear, Deloitte resigned and there's no sign of the cash anywhere…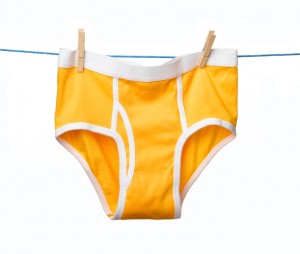 Two weeks ago we blogged about Deloitte's decision to resign as auditors of American Apparel due to amongst other things, problems with stock valuation.
Yesterday, the investor relations department of American Apparel released a press release which included the disclosure that "the Company believes that it is probable that as of September 30, 2010, the Company will not be in compliance with the minimum Consolidated EBITDA covenant under the second lien credit agreement".
In simple terms this means that it may default on some of its loan payments. This is obviously bad news for all stakeholders of the business as the company may simply not have enough cash to stay in business. Their share price fell by 22% in late trading yesterday.
This is quite a fall from grace for the company and its charismatic founder and CEO, Dov Charney. Back in 2004 at the height of the company's success Mr Charney won the Ernst & Young Entrepreneur of the year award.
Mr Charney is one of the real characters of the fashion industry in America and in the past has faced sexual harassment claims as well as allegedly attended interviews and company meetings in his underwear (no doubt American Apparel underwear).
The situation today though is that the company is in negotiations with its creditors to amend the loan agreement to ensure they can stay in business.
It's looking like the decision by Deloitte to resign was indeed a sound decision. The new auditors, Marcum, will no doubt have some challenges ahead but one thing's for sure and that is they should issue their invoice to American Apparel now and start chasing up payment straight away.