Not the brightest individual.
Be honest now – have you ever thought that it would be nice to be able to cheat in your exams and get away with it? Have you ever thought it would be great to be able to pass your exams with ease without putting in any real effort?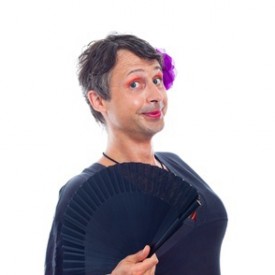 Well, if the thought has crossed your mind you are not the only one. The girlfriend of Ayan Zhademov thought it would be a good idea to cheat in her exams and she managed to persuade 20 year old Mr Zhademov to help her cheat.
Unfortunately for the lady (but fortunately for all the hard-working honest students who were sitting the exam) the plan wasn't the smartest and her boyfriend didn't look much like a woman.
"Didn't look much like a woman" – why does it matter whether or not he looked like a woman I hear you say?
Well, the plan was for Mr Zhademov to pretend that he was his girlfriend and to sit her exam for her.
When the day of the exam came around, he wore her clothes together with a wig and lots of make-up.
It was reported that despite his efforts to dress up as a woman he simply look like a man wearing a dress and make-up which had been put on badly. The exam invigilators noticed something was wrong and became even more suspicious when he spoke as he had an extremely deep manly voice.
The end result was that he was caught out, his girlfriend failed her exam and he was fined £1,400.
The morale of the story is that it doesn't pay to cheat and no matter how tempting it may appear to be, just don't do it. Not even if your girlfriend or boyfriend is a genius and looks exactly like you.