She's good looking but she won't speak to you.
If you are a singer or a member of a band there was a time when your ability to sing was the most important thing.
Now there's a bit of a debate out there as to whether the music industry is too busy creating "artificial talent" rather than identifying the people that can really sing.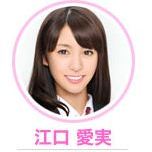 The rise of reality TV shows such as "the X Factor" where pop stars of the future are identified has driven this accusation of creating "artificial stars".
Using Michael Porter's well known strategic business model, the Value Chain and you could argue that a few years ago the key primary component was "Inbound Logistics" where the naturally talented performers were identified. Nowadays it's arguably more the case that it's the "Marketing & Sales" component of the chain where the real value is created.
There's an interesting current development on this debate over in Japan.
Japan's biggest girl band at the moment is a group by the name of AKB48. They are big for two reasons – firstly, in terms of their success (they have had 8 number one singles in Japan) and secondly, in terms of the number of girls in the band (currently a total of 61!).
The interesting thing though is that the latest addition to the band is a lady by the name of Aimi Eguchi.
Aimi was originally introduced on the group's site as normal 16-year-old from a town north of Tokyo.
Sharp eyed fans though spotted the fact that she looked very similar to some of the other group members and AKB48's management subsequently announced that she didn't really exist and was a fake.
She was in fact a computer generated creation that was made up of the features of 6 of the other band members.
Now whilst some people would say that you're likely to get more sense from a conversation with the fake Aimi than some of today's pop stars, it's worth asking whether this is a sign of the way forward in the music industry?
Will the "inbound logistics" of scouring the music clubs to identify the next big group be replaced by the design services of computer programmers?
If you found this item interesting you may also like: