The Spaceship is about to land and there will be 12,000 people in it.
Steve Jobs is one of the best business presenters in the world. His presentations of the latest Apple products are legendary but he' s just done rather well in a somewhat different presentation when he explained to the Cupertino City Council in California all about Apple's plans for their new headquarters.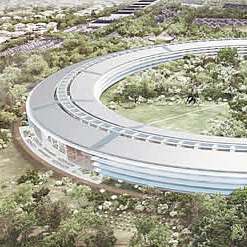 On land that was previously owned by Hewlett Packard, Apple has applied for planning permission to build a new Apple campus that will fit in an incredible 12,000 Apple employees.
Mr Jobs said that the design looks 'a little like a spaceship' and he's certainly right. The building is glass sided and is in the shape of a large disc.
The campus will include a 1,000 seater auditorium as well as a corporate fitness centre.
Mr Job's presentation is shown below.
Cupertino's Mayor Gilbert Wong has perhaps unsurprisingly said that "There is no chance that we're saying no. Every time that we have a large company that has a large sales tax produced we are very accommodating to that company."
I'm sure that there are lots of Mayors in the US that would love to have Apple's Spaceship land in their back yard.
If you found this interesting you may also like: