Is it acceptable for a client to hold your audit files hostage?
It seems that Deloitte has had a spot of bother in dealing with one of its Chinese clients.
When they initially won the audit for Longtop they were no doubt very pleased.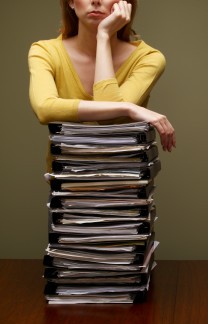 Longtop Financial Technologies Ltd., to give it its full name, is a Hong Kong-based maker of financial software. In 2007 it raised $210 million in a US IPO underwritten by Goldman Sachs and Deutsche Bank.
Things haven't been going too well recently though. Their share price has plunged by 56% since last November reducing the company's market value by more than $1 billion.
They have also just lost their auditors as Deloitte has just resigned.
Auditor resignations aren't that unusual but in Deloitte's resignation letter that was submitted to the U.S. Securities and Exchange Commission there are a few items which to put them in non technical language, sound "extremely dodgy".
The full resignation letter submitted to the SEC can be found here but some extracts of the letter showing the highlights (or lowlights) of some items that Deloitte identified at Longtop are as follows (note that the bold emphasis on certain words was made by us):
[Start of extract from resignation letter]
As part of the process for auditing the Company's financial statements for the year ended 31 March 2011, we determined that, in regard to bank confirmations, it was appropriate to perform follow up visits to certain banks. These audit steps were recently performed and identified a number of very serious defects including: statements by bank staff that their bank had no record of certain transactions; confirmation replies previously received were said to be false; significant differences in deposit balances reported by the bank staff compared with the amounts identified in previously received confirmations (and in the books and records of the Group); and significant bank borrowings reported by bank staff not identified in previously received confirmations (and not recorded in the books and records of the Group).
In the light of this, a formal second round of bank confirmation was initiated on 17 May. Within hours however, as a result of intervention by the Company's officials including the Chief Operating Officer, the confirmation process was stopped amid serious and troubling new developments including: calls to banks by the Company asserting that Deloitte was not their auditor; seizure by the Company's staff of second round bank confirmation documentation on bank premises; threats to stop our staff leaving the Company premises unless they allowed the Company to retain our audit files then on the premises; and then seizure by the Company of certain of our working papers.
In that connection, we must insist that you promptly return our documents.
[End of extract of resignation letter]
I have to say that my initial observations are that Deloitte did the right thing in resigning!
Longtop however have released a press release in connection with the resignation and included the statement that they have "initiated a search for a new auditor."
Somehow I'm not convinced that the other top auditing companies will be rushing out to win Longtop as a client.
If you found this item interesting you may also like: