Please complete the following: this hotel is great for…
If you run a hotel and everything is going well the last thing you want the public to think about is that you're about to go out of business.
The Ballymascanlon Hotel in Dundalk, Ireland is by all accounts a very nice hotel with a lot of advance bookings. In brief, it's a nice hotel situated in a nice location and doing rather well.
Unfortunately though things appear to have gone wrong for them through no fault of their own.
They have reportedly had tearful telephone calls from brides-to-be who have booked the hotel for their wedding reception.
And the cause of the tearful phone calls?
Well, apparently the Google autocomplete suggestion (as seen in the screenshot below) suggests rather ominously "ballymascanlon hotel receivership".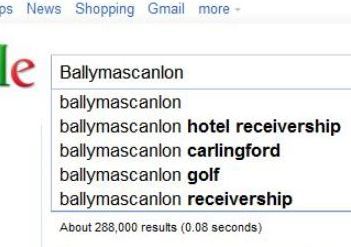 Under UK law, when a company enters receivership it means that an administrative receiver has been appointed by for example a bank that has lent the company some money and as a result has a charge over all or most of the company's assets.
The receiver's objective is to act in the interests of the holder of the charge (i.e. the bank that lent the money).
If a receiver is appointed it means that the company is struggling to stay afloat and the bank wants to make sure that it gets its money back ASAP before the company goes out of business.
Back to Ballymascanlon Hotel though and the autocomplete implication that it is heading towards receivership is far from good news for them. After all, if you're planning your dream wedding day you would think twice about booking somewhere that may go out of business.
There is reportedly no evidence at all of this particular hotel being threatened with actual receivership.
The hotel is now pursuing legal action against Google in connection with the receivership autocomplete suggestion.
If you found this item interesting you may also like: